Guest posting gets a mixed reception after Matt Cutts came out publicly against it. However, high-quality guest posts at authority sites still help in building a personal brand and growing your email list.
So I decided to experiment with writing guest posts in the "personal development" niche and see how much traffic and subscribers I get.
The initial results from the campaign aren't pretty. However, let me break down my entire process with what I learned and the modifications I have planned for my guest posting strategy moving forward.
Here's the process I used to launch my guest posting campaign…
I created a spreadsheet of popular blogs in my niche. It also contained relevant details like links for submitting an article and the contact details of the blog owner.
Then, I reverse engineered the kind content that's liked by their audience. Then, I wrote articles for them with actionable takeaways. You might prefer pitching headlines to the editors of blogs for approval. However, I found that most websites expect finished articles.
I used another sheet to track the progress of my articles.
At the bottom of every post, I used my author bio to link to my landing page that offers a free email course on breaking conventions.

Here's the landing page I created using Thrive themes.
Results of my guest posting campaign on authority websites and my way forward…
I pitched 20 articles, and 11 of them got published. Nine of them didn't get a response or were rejected. That's a healthy percentage of acceptance.
Further, a few sites where I got published were huge names like The Good Men Project, Steven Aitchison, Pick The Brain, Influencive, and Addicted2Success.
Now, here's a look at the numbers.
1. Number of subscribers
A total of 19 subscribers came in the month of February (when the majority of the 11 articles were published). Here's a screenshot from the ConvertKit backend showing the same.

That's disappointing to say the least.
2. Referral traffic
The direct traffic to my site isn't measurable because I didn't have proper tracking in place. However, the net referral traffic I received isn't more than 100 visitors.
It was a shocker because my article at Addicted2Success got over 1800 shares and Pick The Brain featured my article on the homepage.
3. Unexpected backlinks
To my pleasant surprise, The Good Men Project and Pick The Brain allowed links in the body of the content. I had relevantly referred to a couple of my articles on cognitive biases and correlations. Thanks to these backlinks the articles continue to get a handful of visitors today.
Ahrefs also shows an uptick in the number of referring domains to my website. It's nice to get picked up by sites organically.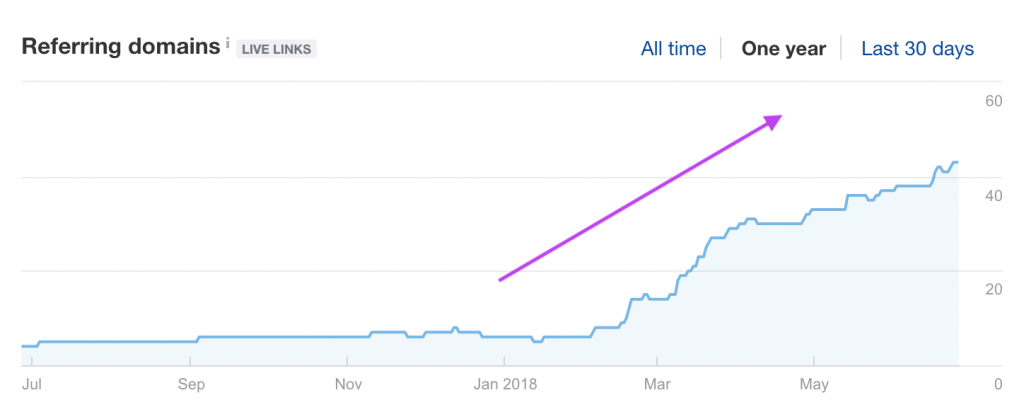 On a closer examination, though, it's alarming as the links also appear spammy.
Ouch.
Probably, I will need to use the Google disavow tool now.
Here are the modifications I have planned for guest posting:
To make it effective, I have the following three aspects in mind.
1. Experiment, gather insights and write a case study around it
The guest posts that do well these days tend to have first-person accounts and experiences. Conducting an experiment and sharing actionable takeaways for the readers is more likely to fare well.
2. Offer a more relevant lead magnet
One primary reason my guest posts didn't convert well was that my email course wasn't always strictly relevant to the articles. Else, the subjects weren't as popular with the publication's audience. By creating a more relevant lead magnet and choosing my subjects carefully, I can likely convert more visitors.
3. Do more guest posts
My data set is small to give conclusive results. It's possible that after publishing 3 to 4 posts at a website, I might get better results. Moreover, guest posting compounds over a period of three to six months.
The plan is to relaunch a guest posting campaign and give a little preference to websites that allow links inside the content.
What do you think of my modified guest posting strategy? Let me know in the comments below.